Kindle Text To Speech
If you want kindle text to speech look no further. We break it down for you on the kindle app, android, and on PC. If you've ever wanted your kindle to read to you; you're not alone, it's an experimental feature only available to 4th Generation and newer Fire Tablets. It's pretty simple to turn on, but not all content is eligible. Let's take a look at TTS
Text to speech Kindle app
To access Text-to-Speech, follow these steps:
Open the document that you want your Kindle to read to you.
Press the Menu button.
Select Start Text-to-Speech from the Menu options.
You can adjust the volume by pressing the Volume Up or Volume Down button on the side of your Kindle.
You can also adjust the speed at which the text is read, and choose either a male or female voice. These options (shown in the figure that follows) are available when you press the Aa key on the keyboard.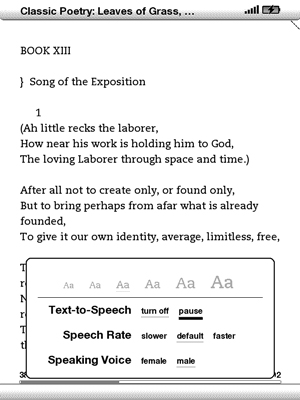 Need A New Book? Browse Some Best Sellers
Listen In The Car
You can listen to speech either with headphones or through the Kindle's speaker. It's the perfect option for long car rides. If your car's audio system has an input jack for audio, you can connect the Kindle to it with a standard audio plug. Just plug one end of the cable into the Kindle's headphone jack and the other into your car stereo's input jack, and you can hear the content fromtexttospeech.
Turn ANY Text to Speech on PC
This App will convert fromtexttospeech with ease! Check it out here
Kindle Text To Speech Android
If you want to enable text to speech on an android follow these steps:
Step 1
Download the latest version of the free Classic Text-to-Speech Engine for Android app at amazon.com. Click on the downloaded file and click "run." Follow the program prompts to complete installation.
Step 2
Click on the book that you wish to hear by clicking on its associated icon on your phone's screen. Then select the text-to-voice option in the options box. Adjust the volume to the desired level — using the control located on the side of your phone or the control on the touchscreen.
Get the Kindle App for Android here
Text to speech kindle PC
To use kindle text to speech pc you have to turn it on in the Tools menu, or press "Ctrl,T" on your keyboard.
Toggle Text-to-Speech: Ctrl, T
Pause or resume reading: Space bar (while in a book)
Read the previous sentence: Ctrl, Shift, Up arrow
Skip forward one sentence: Ctrl, Shift, Down arrow
Increase speech rate: Shift, +
Decrease speech rate: Shift, –
Toggle continuous reading: Ctrl, Shift, C
Turn ANY Text to Speech on PC
This App will convert any text to audio with ease! Check it out here
Need A New Book? Browse Some Best Sellers