How To Block Ads Spotify
Follow this guide to get Spotify no ads on PC and Web version.
Remove Spotify Ads On PC (Updated 2023)
There are a few different methods to blocking ads in the Spotify Windows client.
First method is using an app called EZ Blocker that is available on Windows. You can download it Here (Update: 2023 THIS IS DEPRECATED TRY METHOD 2)
EZBlocker is a simple-to-use ad blocker/muter for Spotify. EZBlocker will attempt to block ads on Spotify from loading. If an ad does load, EZBlocker will mute Spotify until the ad is over.
There are no fancy features, just pure ad blocking. When an ad is blocked, only Spotify is muted, so no other sounds will be affected. EZBlocker aims to be the most stable and reliable ad blocker for Spotify.
There's no setup required – just drag it into any folder and run. To upgrade your EZBlocker, simply replace the executable file.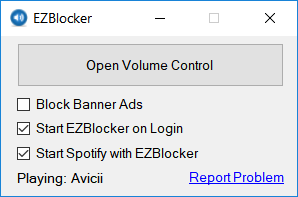 Method 2- The Easiest & Working 2023 Updated
Second method is using an app called Blockthespot. You can download it Here
It takes a moment to configure during installation, and you can choose the option to remove the 'Upgrade' button from the Spotify client. This app enables adblocking and song skipping all in one.
Installation:
Important checks before installing:
Update Windows, update Spotify and update BlockTheSpot
Go to "Windows Security" -> "Virus & Threat Protection"
Click "Allowed threats" -> "Remove all allowed threats"
Features:
Blocks all banner/video/audio ads within the app
Retains friend, vertical video and radio functionality
Unlocks the skip function for any track
Now supports the new Alpha version (New UI)
⚠️ This mod is for the Desktop Application of Spotify on Windows only and not the Microsoft Store version (for that use Method 1).
Installation/Update:
Just download and run BlockTheSpot.bat and follow the onscreen instructions.
Block Ads On Spotify Web Version
This method requires either TaperMonkey for Chrome & Brave or GreaseMonkey for Firefox. You can find those extensions below:
TaperMonkey (Chrome) or GreaseMonkey (Firefox).
There is a stand-alone tool called Spotify-site-adblocker that, when added, blocks ads on the Spotify Website. You can find it to download Here
Installation: You must select 'Download Zip' and then add that zip file to your chosen extension (TaperMonkey or GreaseMonkey)
Check Out Our Other Article: How To Block Ads On Twitch (Mobile and PC)